November 21, 2022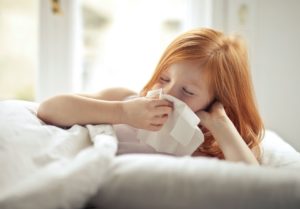 As the leaves change colors and daily temperatures drop, cold and flu season is already in full swing. No matter how much you try to protect your little one from germs, a runny nose or irritating cough is bound to happen. Over-the-counter cold medicines and home remedies can keep your child comfortable, but many can be harmful to their developing smile. Don't worry, here are 5 tips to safeguard their dental health while combating a case of the sniffles.
1. Choose Sugar-Free Cough Drops
Cough drops or lozenges can ease sore throats, but many contain high amounts of sugar. It can be the same as sucking on a piece of hard candy for an extended period of time, which bathes their teeth in cavity-causing bacteria. It's best to choose sugarless cough drops. Avoid those that contain fructose or corn syrup to maintain a cavity-free smile.
2. Don't Brush After Vomiting
Nothing is worse than a stomach bug that accompanies a cold or flu. If your child vomits, don't have them brush their teeth right away. It will rub stomach acid all over their teeth, which can erode their enamel. Instead, have your little one rinse their mouth with water, and brush about 30 minutes later.
3. Encourage Plenty of Water
Nasal congestion can lead to mouth breathing, which can create the perfect environment for harmful oral bacteria to thrive. Not to mention, many cold medicines contain ingredients that can dry out the mouth. Encourage your child to drink plenty of water to stay hydrated and keep their mouth moist. It will lead to a quicker recovery while keeping their mouth clean in between brushing and flossing.
4. Choose the Right Fluids
Fluids are essential when fighting illness to replenish electrolytes. Many sports drinks contain them, but they also have high sugar content. It's better to choose sugar-free options to protect your child's enamel from tooth decay.
5. Keep Brushing and Flossing
If your little one isn't feeling well, the last thing that they may want to do is get out of bed to brush their teeth. However, skipping even one night of brushing can cause oral bacteria numbers to skyrocket. Ensure your child is taking the time to brush and floss, even if it means bringing their toothbrush and a cup of water to their bed.
Support a Healthy Mouth and Body
Researchers have found many connections between oral and general health. Good oral hygiene habits will support a strong immune system to fight germs and bacteria. They'll maintain a healthy, beautiful smile and get back on their feet quickly. Don't forget to schedule their next cleaning and checkup with their pediatric dentist before the new year.
About Dr. Reema Dhingra
Dr. Dhingra achieved her dental degree from the Tufts School of Dental Medicine and continued her education to focus on orthodontics. She enjoys working with children to support their oral health and development. She provides the compassionate care they need. If it's time for your child's next dental cleaning and checkup, contact our office today to request an appointment.
Comments Off

on 5 Tips to Protect Your Child's Smile from Colds
No Comments
No comments yet.
RSS feed for comments on this post.
Sorry, the comment form is closed at this time.