Meet Your Auburn Pediatric Dentist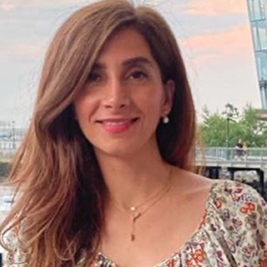 Golnaz Goodarzi, DMD
Dr. Golnaz enjoys the challenges of pediatric dentistry and the rewards of seeing children happy and comfortable at the end of their appointments. Growing up in a family of dentists, Dr. Golnaz always knew that dentistry was her calling, and now she realizes how very gratifying each and every day can be when they are full of beautiful little smiles!
Education and Experience
Dr. Golnaz is a board-certified pediatric dentist, having obtained a Doctorate of Dental Medicine degree from the University of Connecticut School of Dental Medicine and completed a two-year residency in pediatric dentistry at the Boston University School of Dental Medicine. Prior to that, she earned a Bachelors of Science in Biology from the University of Massachusetts in Boston. In addition to her clinical work, Dr. Golnaz's research has been published in several leading dental journals.
Professional Affiliations
American Academy of Pediatric Dentistry
American Dental Association
American Board of Pediatric Dentistry
Massachusetts Dental Society
Outside the Office
Dr. Golnaz is originally from Shiraz, Iran and currently resides in Brookline. When she's not in the office, Dr. Golnaz enjoys playing tennis, reading, watercolor painting, and spending time with her family.