New Patient Information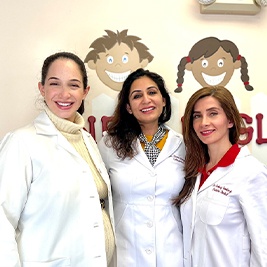 Our practice is extremely lucky to have the doctors that we do. Thanks to their range of expertise, including two certified pediatric dentists and an orthodontist, we can confidently say that we have everything your child's smile might need. Each one has years of experience serving little smiles, and they continue to improve themselves with advanced education. Every day, they come together to make sure Auburn's most precious citizens have healthy, beautiful teeth they're always proud to show off. Before you schedule an appointment with us, please click on the links below to get to know our wonderful doctors.
Welcome to New England Kids Pediatric Dentistry, General Dentistry and Orthodontics! We're so happy that you've chosen our practice to take care of your most precious smile. Before you schedule your child's first appointment, be sure to read through all of the information below. It will help you know what to expect during their initial visit as well as go over all of your payment options. If you have any questions after reading through this page, be sure to give us a call.
Your First Visit
No matter why you've brought your child to see us, their appointment will always begin with a smile from our front desk team. We'll take both of you on a brief tour of the office so you can meet everyone, and then you'll be escorted to a treatment room where you'll get to meet your child's dentist. They'll spend a few moments talking with you about your child, and then they'll perform a brief exam while your little one sits in your lap. From there, they'll discuss any additional treatments they might need and offer a few tips to improve their home care routine.
Insurance Accepted
One of our main goals here at New England Kids Pediatric Dentistry, General Dentistry and Orthodontics is to make taking your child to the dentist easier than ever, which is why we make a special effort to ensure their care is always affordable. We're happy to accept any dental insurance plan and work with you to make sure you're maximizing your benefits . Plus, we accept Medicaid as well. To learn how we can use your particular plan to help you save at your child's next appointment, please give us a call today.





Financing Available
Do you currently NOT have dental insurance, or does your child require a treatment that isn't covered by your plan? No worries! We can help you get hassle-free, low-to-no interest financing with CareCredit. They have a variety of plans that can spread out and break up the cost of your care however long is best for you and your budget. To explore your options, simply click on the link below.