Invisalign: Straighter Teeth. No Braces.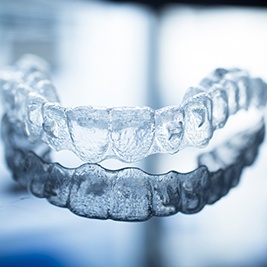 For decades, if you wanted to get straighter teeth, there was only one solution: traditional metal braces. While they are effective, affordable, and durable, they have one quality most people simply don't like: their appearance. Metal braces are very noticeable on the teeth, and for most people (particularly adults), they believe wearing them will make them appear immature. Our own Dr. Reema understands this completely as a board-certified orthodontist, which is why she's happy to offer our more image-conscious patients a viable alternative: Invisalign. With Invisalign, there are no brackets, no wires, and no metal. You can get the straighter smile you've always wanted without changing your daily appearance, giving you the best of everything. How does it work? Is it right for you? To learn more, read on below.
How Does Invisalign Work?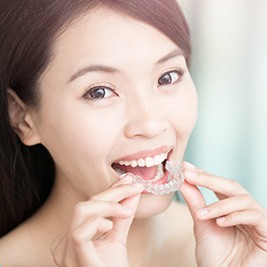 Invisalign uses a series of custom-made clear plastic aligner trays to gently and efficiently straighten the teeth. After examining your mouth, Dr. Reema will create an impression of your teeth, map out how they will move, and send this plan to an Invisalign lab. There, they will make your trays according to her specifications.
You'll then return to our office to pick up your trays. You'll simply need to wear one set for about 22 hours a day for 2 weeks before moving onto the next one, and after you have gone through the entire series, you're done! Your smile should be completely straight.
Invisalign vs. Metal Braces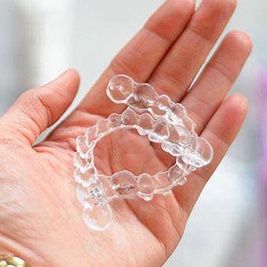 More and more adults are choosing Invisalign to straighten their smile because it offers a few key benefits:
Subtle Appearance: The trays themselves are nearly invisible when worn on the teeth, enabling a patient to smile with confidence both during and after their treatment.
Convenience: Unlike braces, you can simply take an Invisalign tray off whenever you need to eat or brush your teeth. This makes it much easier to take care of your teeth, plus you won't have to drastically alter your diet!
Comfort: Each tray will be specially-designed to fit your unique smile out of smooth plastic.
Speed: In some cases, Invisalign is able to fully straighten the teeth much faster than traditional orthodontics.
Is Invisalign Right For Me?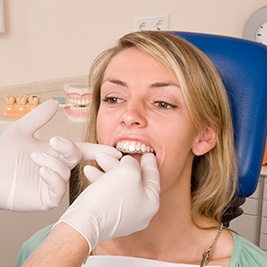 Invisalign is able to tackle a wide variety orthodontic issues, including crooked, crowded, and gapped teeth, as well as jaw misalignments such as an overbite, underbite, and crossbite. All a patient really needs in order to get Invisalign is a mouth free of cavities and gum disease, though some specific orthodontic problems may only be able to be fixed using metal braces. Dr. Reema can let you know if the treatment is right for you during a brief consultation.
To schedule one and start getting your new smile in the most discreet way possible, simply contact us today.