August 22, 2022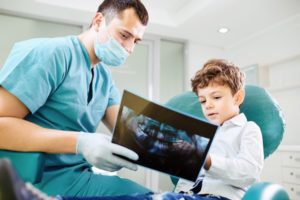 As a parent, you naturally want your little one to be safe, healthy, and happy at all times. So, you might understandably feel a bit concerned when your child's pediatric dentist recommends taking x-rays of their mouth during their checkup. Fortunately, modern dental x-rays are completely digital, making them safer than ever before. Here are some important things to know about why kids need dental x-rays and why this technology is nothing to worry about!
Why Does My Child Need Dental X-Rays?
Dentists can spot many signs of oral health concerns with their highly trained eyes, but so much also goes on below the gumline. Even they can't see below the surface, which is where x-rays come in. When it comes to kids, regular x-rays are extremely important, as they help the dentist ensure the teeth and jaws are developing correctly. X-rays help your pediatric dentist keep your child's smile healthy in several ways, such as:
Detecting tooth decay, cracks, or other problems that can only be identified with x-rays.
Monitoring the ways in which the jawbone and teeth are developing.
Ensuring the permanent teeth will erupt correctly.
Evaluating whether any orthodontic issues might arise in the future.
Are Dental X-Rays Safe for Kids?
In just the last few decades, x-ray technology has progressed by leaps and bounds. These days, dentists have been able to take fully digital X-rays, which emit up to 90% less radiation than the film X-rays used in the past. Some studies have shown that these X-rays give off the same level of radiation that the average person is already exposed to in their daily lives through things like the sun and household appliances. To make the process even safer, the dentist will protect the rest of your child's body by placing a lead apron over it.
How Often Should My Child Get Dental X-Rays Taken?
Most dentists recommend that children start getting regular X-rays taken as soon as their teeth begin emerging past the gums. At that point, the frequency of their X-rays may vary. For instance, kids who are in great oral health and practice healthy dental habits might only need to get X-rays taken once a year. Children with a high risk or history of oral health problems, on the other hand, may need X-rays taken every six months.
Modern dental X-rays are 100% digital, meaning you shouldn't have to worry about your little one's safety while their growing smile is cared for. Of course, if you still have questions or concerns about X-rays, feel free to let your child's dentist know during their next checkup.
About the Practice
At New England Kids Pediatric Dentistry, General Dentistry and Orthodontics, we have a board-certified team of two pediatric dentists and an orthodontist who are dedicated to providing world-class, comfortable care for every child's smile. All three of them are moms, so you can trust they would treat your little one with the same gentleness as their own. We use fully digital dental X-rays to evaluate children's oral health in the safest way possible. If you have questions, you can reach out to us by calling 508-832-6278.
Comments Off

on Are Dental X-Rays Safe for Children?
No Comments
No comments yet.
RSS feed for comments on this post.
Sorry, the comment form is closed at this time.