July 6, 2022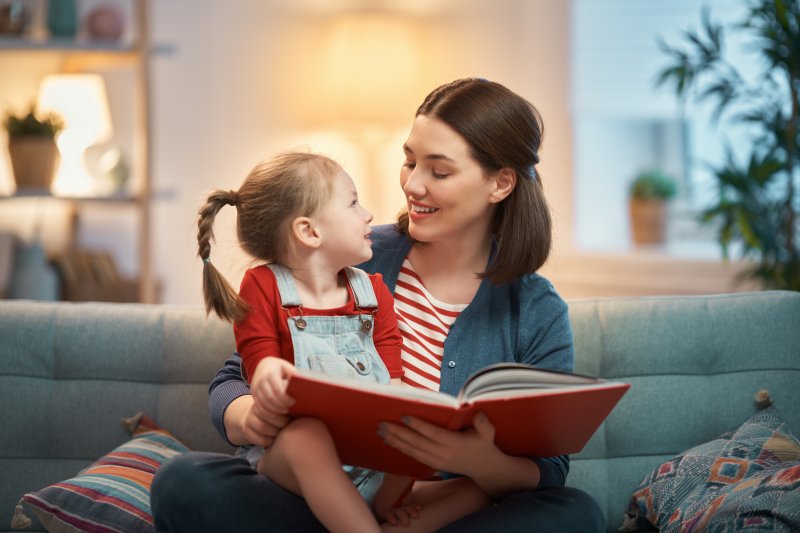 Visiting the dentist can be a daunting experience for both children and adults. After all, there are bright lights, loud tools, and an unfamiliar person working on your mouth. The entire ordeal can be quite overwhelming for many people, especially kids. Fortunately, there are plenty of children's books that can prep your child for their upcoming dental appointment. Read on to learn which six books can help your little one get excited about visiting the dentist.
The Crocodile and the Dentist – Tario Gomi
In this story, the crocodile has to overcome his fear of the dentist while the dentist has to conquer his fear of the croc. Your little one will enjoy hearing both sides of the story! It's a great way to remind them that dentists are regular people with fears too.
The Berenstain Bears Visit the Dentist – Stan Berenstain
This story is a classic tale of the Berenstain family's trip to the dentist. While reading this book, your child will learn about professional teeth cleanings and cavity checks. It will help your little one see how even storybook characters need a dental checkup from time to time.
Daniel Goes to the Dentist – Alexandra Cassel Schwartz
Tigers can be scary, but they get dental anxiety too! In this book, Daniel Tiger has a fantastic time visiting his dentist. They walk through every step of the appointment, removing any mystery from each aspect. By the end of the story, your little one will know exactly what to expect when visiting the dentist.
Curious George Visits the Dentist – Margret & H. A. Rey
When Curious George discovers his first loose tooth, he's off to see his dentist. Although he's initially nervous about his appointment, he quickly realizes there's nothing to be afraid of! The story details his good (yet mischievous) first trip to the dentist.
The Tooth Book – Dr. Seuss
If you want a book that'll teach your child about the importance of strong and healthy teeth, then this one's for you. It's a great resource that explains why dental checkups are necessary for a healthy mouth. Dr. Seuss reinforces how these routine appointments are essential for eating, smiling, and many other day-to-day activities.
Dentist Trip (Peppa Pig) – Scholastic
What child doesn't love Peppa Pig? In this story, Peppa helps her little brother handle his first trip to the dentist. She's able to successfully calm George down with words of wisdom. They may be able to help your child relax as well!
It's completely normal for children to feel nervous about visiting the dentist. If you need help keeping your little one calm, break out some of these fun books. They'll make your child realize that there's nothing to fear!
About the Practice
At New England Kids Pediatric Dentistry, we're passionate about helping children achieve and maintain their very best smiles. Our team will always treat your child as if they were one of our very own, which is why we'll do everything possible to ensure they have an enjoyable and relaxing visit. To schedule a routine checkup for your little one, visit our website or call (508) 832-6278.
Comments Off

on 6 Books to Help Your Child Feel Less Nervous About the Dentist
No Comments
No comments yet.
RSS feed for comments on this post.
Sorry, the comment form is closed at this time.