May 13, 2022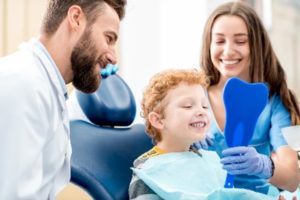 Nothing is more exciting than watching each baby tooth erupt from your child's gums. Although they are only in place for a few years, each tooth is crucial to oral health and development. They also act as placeholders for the adult teeth to ensure they come in straight. Unfortunately, tooth decay is the biggest threat to young smiles. Cavities are easily treatable while they are still small, but severe decay can put them at risk of losing a tooth too soon. Root canals for kids (pulpectomy) can save their teeth to ensure nothing prevents them from achieving their best smiles. 
Root Canals for Children
When a filling is no longer enough to save your child's tooth, they may recommend a pulpotomy. It's used to treat deep cavities to prevent inflammation and infection from reaching the innermost layer of a tooth to avoid a pulpectomy.
If the inner layer is infected, it will need to be removed, which is known as a root canal when performed on adults. When necessary for children, it is called a pulpectomy. The treatment is designed to remove the pulp from a primary tooth to stop pain caused by infection. It can prevent the need for an extraction, allowing the tooth to fall out naturally when the time is right. Removing the soft inner layer of the tooth doesn't affect its health because the pulp isn't necessary after the tooth has formed fully. 
When is a Pulpectomy Necessary?
A dentist will only recommend a pulpectomy when there aren't any other options to save your child's tooth. This can occur when a cavity has gone untreated for too long, allowing it to infect the inner layer of the tooth, resulting in a painful toothache. A pulpectomy can also be recommended if a tooth has suffered significant trauma or injury, like a break or fracture.
Although extracting the tooth eliminates the source of the problem, it opens the door to several complications. If a baby tooth is lost too soon, it can affect your child's ability to eat and speak correctly. As they lose their primary teeth, they can have alignment issues with their permanent teeth, like overcrowding or bite problems.
What Happens During a Pulpectomy?
The procedure differs slightly from adults, but don't worry, your child won't feel anything because a local anesthetic will be used. In some cases, their dentist may also use a light sedative to keep them comfortable. The dentist will open the tooth to remove the decay and pulp. The tooth is disinfected before being filled with a special material. A crown may be placed over the tooth for an added layer of protection.
With the pulpectomy complete, their tooth will continue to serve its purpose to support your child's development.
About Dr. Golnaz Goodarzi
Dr. Golnaz earned her dental degree from the University of Connecticut School of Dental Medicine before completing a 2-year residency in pediatric dentistry. She is a board-certified pediatric dentist and a member of various professional organizations, including the American Academy of Pediatric Dentistry. Contact our office today to request a consultation if your child has a toothache.  
Comments Off

on What is a Pulpectomy and When Is It Necessary?
No Comments
No comments yet.
RSS feed for comments on this post.
Sorry, the comment form is closed at this time.