January 18, 2022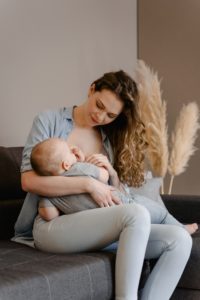 Nursing provides endless benefits for your infant, like a stronger immune system, decreased risk of SIDS, and fewer ear infections. You're providing your child with the nourishment they need while also lowering your risk of breast and ovarian cancer. Although you've heard about the health benefits of breastfeeding, did you know it also affects your child's smile? Here are 5 facts about nursing and oral health every mother should know.
1. Breastfeeding can prevent bite misalignment.
According to a study published in the Journal of the American Dental Association, babies that are breastfed exclusively for 6 months are less likely to have misaligned teeth. They have fewer issues with open bites, overbites, and crossbites when compared to infants that nurse for fewer months or not at all. Although it won't stop alignment and bite problems completely, it can reduce your child's risk of needing braces when combined with regular dental care and healthy oral habits at home.
2. You can still nurse after baby teeth erupt.
Nothing is more exciting than your baby's first tooth emerging through the gum tissue. As their gummy smile is filled in with their primary teeth, you don't have to wean them. Most baby teeth erupt between 4 to 7 months of age; however, the American Academy of Pediatrics recommends nursing for the first year. The World Health Organization supports breastfeeding up to the age of two, but every mother and child are different. You don't have to worry about losing the special bonding time just because their baby teeth are coming in.
3. Breastfeeding reduces the risk of baby bottle tooth decay.
Baby bottle tooth decay is common in infants that don't exclusively breastfeed. Their teeth are exposed to sugary drinks for longer. You might believe this is only a concern if you give your baby juice, but many formulas contain sugar. While cavities can still occur in breastfed babies, nursing lowers the risk of baby bottle rot because the teeth won't be bathed in sugary liquids.
4. Nursing babies aren't immune to cavities.
Breastmilk is natural, but it does contain sugar. Whether breast or bottle feeding, it's important to introduce a daily oral hygiene routine early, even if your infant doesn't have any teeth. Use a soft cloth or moist gauze pad to clean their gums and tongue daily until their teeth erupt.
5. Let your dentist know you're nursing.
Your smile is equally important as your infant's. Maintain your semi-annual cleanings and checkups. If you require any dental work, let your dentist know you're breastfeeding to ensure any medications needed won't hurt your baby, like sedation or antibiotics.
If you have any questions about your child's developing smile, don't hesitate to contact their pediatric dentist.
About Dr. Reema Dhingra
Dr. Dhingra earned her dental degree from the Tufts School of Dental Medicine before continuing her training to achieve her orthodontic certification. She is passionate about creating healthy, beautiful smiles in the Auburn community. Dr. Dhingra provides the compassionate care children need. Contact our office today to schedule an appointment.
Comments Off

on 5 Facts Oral Health Facts for Nursing Mothers
No Comments
No comments yet.
RSS feed for comments on this post.
Sorry, the comment form is closed at this time.