November 7, 2020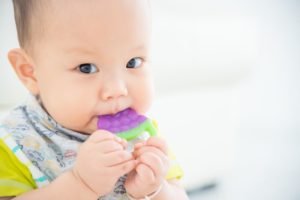 Imagine this: you're exhausted after a long day with your cranky, teething baby. As you finally sink into bed for the night, you hear them start to fuss again. You are both in desperate need of sleep, but their aching gums are making that a difficult task. Thankfully, there are a few easy ways to make this process easier on you both! Read on as your Auburn pediatric dentist shares seven tips to help your teething baby sleep so you can both get the rest you deserve.
1.) Avoid Unfounded Home Remedies
Not only are most old wives' tales about how to ease teething pains ineffective, but they can be dangerous for your baby. Don't rub alcoholic beverages on your little one's gums and avoid numbing gels and homeopathic teething tablets. The FDA officially advises against all these methods due to their potential negative side effects.
2.) Safely Numb the Gums Before Bedtime
Instead of numbing gels or creams, there are safer options for numbing your baby's discomfort. A little while before bedtime, you can try letting your child chew on a damp washcloth that's been in the freezer for 30-60 minutes. Or, you could also try giving them cold, slushy applesauce or frozen fruit.
3.) Try Out Teething Rings
Cold teething rings can also help ease your little one's discomfort before bed. However, just be sure that they can't puncture it with their teeth, which could allow them to ingest the substance inside.
4.) Put a Little Pressure on Their Gums
Sometimes, a little counter pressure on the gums can ease the soreness of teething. For this method, simply wash your hands and rub a finger along your baby's gums before bedtime.
5.) Use Over-the-Counter Medications
If your baby is particularly fussy, you can ask your pediatric dentist or doctor which over-the-counter pain relievers they recommend. Typically, as long as medications like infant acetaminophen or ibuprofen are administered correctly and judiciously, they can be quite helpful for teething.
6.) Wipe Away Excess Drool
Excessive drooling is a natural side effect of teething, which can add to your little one's discomfort. Regularly wipe away their drool and use baby-safe products to keep their skin moisturized.
7.) Keep Up Their Regular Bedtime Routine
Don't let teething interrupt or dramatically change your baby's bedtime routine. Routines create a better environment for self-coping. Changing it to deal with teething can disturb their sleeping patterns even more!
If nothing seems to be helping your fussy baby during the teething process, their discomfort may be caused by something else. Visit your Auburn pediatric dentist right away so they can identify the underlying cause, determine the best way to treat it, and help you and your baby finally get the good night's sleep you both need!
About the Practice
At New England Kids, we are dedicated to helping every growing smile in Auburn and the surrounding communities get a strong, healthy start. Our team of two pediatric dentists and an orthodontist offer an array of treatments designed to meet the unique oral healthcare needs of children. What's more, we're a team of moms who truly understand that your little one deserves comfortable, compassionate, and expert care. For more help addressing your child's teething problems, don't hesitate to contact us via our website or at (508) 832-6278.
Comments Off

on 7 Ways to Help Your Baby Sleep While Teething
No Comments
No comments yet.
RSS feed for comments on this post.
Sorry, the comment form is closed at this time.