June 7, 2020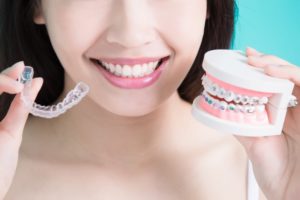 Crooked, misaligned, or otherwise imperfect teeth can take a serious toll on your self-esteem and confidence. To correct these issues, the American Association of Orthodontics estimates that roughly 4.5 million Americans wear braces on their teeth. Also, roughly 80% of that statistic are children between 6 and 18 years of age. However, traditional braces aren't your only option to straighten your teeth. If you are currently deciding whether you want to pursue Invisalign or traditional braces, keep reading for the differences, length of treatment, and benefits of each.
What Is the Difference Between Invisalign and Braces?
While both Invisalign and traditional braces are popular and effective, they are quite different in their approach to straightening your teeth. While metal braces rely on wires, elastics, and brackets to shift your teeth, Invisalign uses plastic aligners. Another fundamental difference is that traditional braces are only removed at the end of your treatment. However, Invisalign trays are replaced around every two weeks with a new set. Lastly, Invisalign only requires patients to wear their aligners for 22 hours a day, but braces are worn 24/7.
Is Invisalign Really Faster than Braces?
In short, the answer is yes. While traditional metal braces require somewhere between 18 and 24 months, the average length of treatment with Invisalign is 12 months. However, the time needed to deliver the results you desire largely depends on how complex the treatment plan is. For example, patients with minor misalignment can see results in 6 months with Invisalign. However, those with severe crowding and issues with their bite can expect treatment to take up to 18 months. Therefore, it is important to follow all of your dentist's instructions regarding your treatment so you can get results as quickly as possible!
5 Benefits of Invisalign
While Invisalign's clear aligners are widely known for their virtually invisible treatment, it does have additional benefits that could make it the right treatment option for you. Below are five benefits that Invisalign provides their patients:
No food restrictions.
Improved cleanliness.
Entirely removable.
More comfortable.
Faster treatment.
5 Benefits of Braces
All too often, traditional braces are disregarded entirely or looked at as outdated. However, metal braces have a multitude of benefits that continue to make it a leading teeth-straightening approach. Here are five benefits of traditional braces:
They can correct complex dental problems.
They can be more cost-effective.
Patients cannot lose them or forget to put them back in.
They work for almost anyone.
They are extremely durable.
Both Invisalign and metal braces are effective and safe. However, their unique differences help patients and their dentists decide which one is right for them. Regardless of the approach you choose, opting for a teeth-straightening solution can restore both your smile and your confidence!
About the Practice
At New England Kids, their team isn't just experienced professionals; they are also a group of moms. Backed by their entire team, Dr. Reema, Dr. Anubha, and Dr. Golnaz use their passion for dentistry to provide the comprehensive treatment your child needs for a lifetime of healthy teeth and gums. Plus, they can even help parents achieve the smile of their dreams with adult orthodontics! If you are currently considering Invisalign or braces, don't hesitate to visit their website or call them at 508-832-6278 to get answers to any questions you have.
Comments Off

on Invisalign vs. Braces: Differences, Treatment Length, and Benefits
No Comments
No comments yet.
RSS feed for comments on this post.
Sorry, the comment form is closed at this time.