April 16, 2020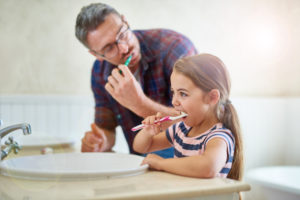 Is your child stuck at home because their school has temporarily closed to stop the spread of COVID-19? While practicing social distancing is the best way to keep them safe from the coronavirus, your son or daughter may be prone to develop bad dental habits without their normal routines. The last thing you need during quarantine is for your little one to get a toothache or chip a tooth! Here are seven children's dentistry tips to help your child take care of their smile while staying home in Auburn.
Tip #1: Clean Those Smiles Regularly
Amidst all the changes to your family's daily schedule, don't let regular toothbrushing fall to the wayside! Make sure your child is brushing their teeth every morning and night to fend off oral health issues and retain a sense of normalcy.
Tip #2: Try Making Toothbrushing More Fun
If you can make toothbrushing more fun for your little one, they'll be more excited to clean their smile. As they brush for two minutes, try reading to them or playing a catchy song they can dance to.
Tip #3: Watch How Much Toothpaste They Use
To avoid an extra trip to the store, make sure your son or daughter is only using as much toothpaste as they need. If they're six years old or older, that's a drop about the size of a pea.
Tip #4: Cook Nutritious Meals Together
Making healthy meals together is a great way to keep your child entertained and productive. You can use this activity to teach them life skills and the relationship between nutrition and oral health.
Tip #5: Don't Leave Snacks Out
Leaving snacks out in an easily accessible area encourages snacking throughout the day, which raises the risk of tooth decay. Keep cavities at bay by putting snacks away and out of sight.
Tip #6: Celebrate Establishing Healthy Habits
The lessons and habits you teach your child in quarantine can benefit them their whole life. Encourage them to establish regular dental routines with habit trackers and rewards for meeting certain goals.
Tip #7: Set a Good Example
Show your son or daughter that you take oral health seriously by brushing your teeth with them. This keeps them engaged in oral hygiene while allowing you to keep an eye on their brushing habits. Additionally, this practice ensures that you're taking enough time to care for your own smile as well!
About the Practice
Our highly experienced dentists at New England Kids have always put the health and safety of the growing smiles of Auburn, MA first. In response to the COVID-19 pandemic, they have chosen to follow the recommendations of the Centers for Disease Control and Prevention and the Massachusetts Department of Public Health and have temporarily closed their office. While they continue to firmly believe in the importance of routine dental care, regular checkups and cleanings will be postponed until further notice for the best interests of their patients. If your child is experiencing a dental emergency, don't hesitate to contact them via their website or at (508) 832-6278.
Comments Off

on 7 Easy Ways to Care for Your Child's Smile in Quarantine
No Comments
No comments yet.
RSS feed for comments on this post.
Sorry, the comment form is closed at this time.