March 14, 2020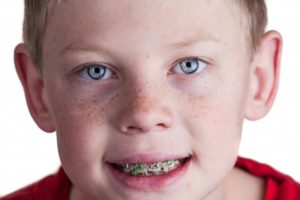 If you have a loved one at home that has crooked teeth, you're probably researching solutions. Of course, there is the traditional braces treatment, but are there any other types of orthodontics? Today, there are a variety of treatment options available, and your orthodontist will recommend the service that best meets your child's needs. Keep reading to learn about the different types of braces and how your son or daughter can benefit from them.
But First, How Do Traditional Braces Work?
In order to understand the different types of braces, you should know how traditional ones work first. This is a system of wires that are held in place by brackets bonded to your teeth. These wires are tightened to create pressure and torque, gradually shifting the teeth into alignment. This tried and true process is still used today, however there are other options that may offer more unique benefits for your child.
Clear Aligners
One of the most popular alternatives to braces are clear aligners. This involves the use of a series of plastic aligners, which are designed to slowly move the teeth into place. Designed with clear and smooth plastic, this treatment is discreet and comfortable to wear. However, younger patients are often poor candidates because the aligners require strong commitment to the treatment plan as well as maintenance.
Self-Ligating Braces
Just like traditional braces, self-ligating braces use brackets and wires to shift the teeth, but there is one huge difference! Instead of rubber bands that help the wires attach to the brackets, they simply snap on to them with a small latch on each bracket. This allows for the wires to move more freely, straightening your child's teeth without applying extra force.
Retainers
For mild cases of misalignment, or for use after braces, your orthodontist may also recommend retainers. These are custom-made oral appliances that use wires to keep teeth in place. Their main difference compared to braces is that retainers are usually removeable. This oral appliance is incredibly important because it helps protect your investment of time and money in your child's smile by maintaining the results.
If you're wondering which treatment is best for your child, the only way to know is to visit your orthodontist in Auburn. They will carefully examine your kid's smile before developing a personalized treatment plan with important information like estimated treatment time and cost.
Are you ready to give your child the gift of a straight smile? Now that you know about the different options, contact your orthodontist to get started!
Meet the Orthodontist
Dr. Reema Dhingra is an experienced orthodontist who loves helping her smaller patients achieve beautiful and confident smiles. She offers every treatment from phase 1 pediatric orthodontics to adult orthodontics and much more. If you have any questions, she can be reached through her website or by phone at (508) 832-6278.
Comments Off

on What Are the Different Types of Braces?
No Comments
No comments yet.
RSS feed for comments on this post.
Sorry, the comment form is closed at this time.