February 7, 2020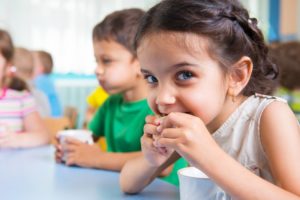 February is National Children's Dental Health Month! Now is a great time to make sure your little one's precious smile stays happy and healthy. Sometimes it can feel like a challenge to convince your son or daughter to take care of their teeth. Thankfully, improving their oral health can be as easy as adding a few smile-friendly snacks into their lunchbox! Your pediatric dentist explains which foods are the worst for your child's teeth and which ones can boost their oral hygiene.
Cavity-Causing Snacks
Tooth decay is the number one most common chronic childhood illness, more widespread than both diabetes and asthma. Unfortunately, this is due to the high sugar content of foods that are often marketed for children. Some of the worst cavity-causing snacks include:
Candies that are hard or chewy, which allow sugar to linger longer on your child's teeth.
Both regular and diet sodas, since they're both acidic enough to soften the enamel.
Fruit juices, which can sometimes be just as sugary or acidic as a can of soda.
Smile-Friendly Foods
Thankfully, there are plenty of tasty foods that can keep your child's mouth clean and healthy, like:
Carrots, celery, and apples. Raw fruits and vegetables that are high in fiber can help fight against cavities by gently brushing the teeth as your child chews them.
Low-fat dairy products. Snacks like cheese, yogurt, and milk are great sources of calcium, which strengthens the jawbone, rebuilds weakened enamel, and potentially neutralizes harmful acids.
Eggs, salmon, chicken, nuts, and beans. Foods that contain the mineral phosphorous help maximize the effectiveness of calcium.
Leafy greens. Spinach, broccoli, kale, and many other vegetables are brimming with Vitamin C, which helps the body fight off infections like gum disease.
Healthy Habits for a Happy Smile
How your child eats can have just as much of an impact on their smile as what they eat. Constantly snacking throughout the day increases how often your child's teeth are exposed to sugar, which will increase their risk of cavities. As you limit how often they snack, encourage them to drink more water. Not only will this help subside their cravings and keep them hydrated, but every sip of water will wash over their teeth and rinse away any accumulating plaque or bacteria. As an added bonus, community tap water often contains fluoride, which fortifies the enamel against tooth decay.
Helping your son or daughter improve their oral health doesn't have to be a challenge. Adding these healthy snacks into their daily diet is a tasty, natural way to keep their smile happy and healthy.
About the Author
New England Kids is proud to serve Auburn, MA and the surrounding communities with effective, efficient, and excellent children's dentistry. Our team of two pediatric dentist and board-certified orthodontist combine their years of knowledge and experience to meet all of your child's oral healthcare needs under one roof. We always go the extra mile to make surer both you and your little one are as comfortable and relaxed as possible for each and every appointment. To learn more tips for improving your child's oral health, feel free to contact us via our website or (508) 832-6278.
Comments Off

on Tasty Treats to Keep Your Child's Smile Happy & Healthy
No Comments
No comments yet.
RSS feed for comments on this post.
Sorry, the comment form is closed at this time.