November 17, 2019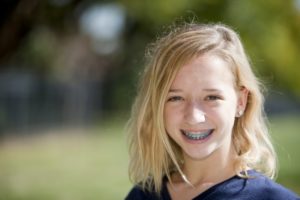 The colorful elastics – the rubber bands that are usually attached to braces – are the best part of orthodontic treatment for many children. But did you know that there are different kinds of elastics that can be used? While they're often tied to each bracket individually, some are actually linked to each other. How does this affect your child's orthodontic treatment? Read on to learn how power chains on braces can make a significant difference when correcting your child's smile.
What is a Power Chain?
The tiny elastic bands that attach the arch wire to the brackets are called ligatures; a power chain is made of a string of these elastics (although sometimes it can be made of metal twists instead). A power chain connects the brackets to each other, creating a continuous band across your child's smile. Power chains can be used for some teeth while traditional individual ligatures are attached to the rest.
What's the Advantage of a Power Chain?
Orthodontists usually recommend power chains for closing gaps between the teeth. The chains can apply significantly more force than brackets and wires alone without exposing the teeth to too much pressure. As a result, the adjustments can be completed much more quickly. Power chains can also be used to help correct misalignment, malocclusion, and crooked teeth.
How Long Will My Child Wear Power Chains?
The amount of time your child wears power chains on their braces will vary; it could be as long as six months or as short as six weeks. And in some cases, the orthodontist might choose to keep the power chain in place after the orthodontic issue it was meant to correct is resolved in order to stop the teeth from reverting to their previous position.
How Can My Child Take Care of Power Chains?
Your child should continue following the habits that help protect traditional braces. This includes:
Practicing good oral hygiene. (Food might get trapped in the elastics more often, and your child might have to spend extra time brushing.)
Avoiding hard or sticky foods that could break the brackets or ligature.
Controlling any pain (especially after adjustments) with ibuprofen or other over the counter medications.
Remember that even a short period of poor oral hygiene can have a severe impact on teeth and gums. If your child is having trouble cleaning their power chain, talk to your dentist or orthodontist to figure out a solution.
It's important to realize that there's nothing unusual about your child needing power chains; they are a routine part of many an orthodontic treatment. You can rest assured knowing that once they've been attached to your little one's braces, you can look forward to seeing a more confident grin on their face.
About the Practice
At New England Kids in Auburn, we have two pediatric dentists and an orthodontist who can provide everything your little one needs to enjoy a dazzling smile for the rest of their life. We offer orthodontic treatment for children, teens, and even adults. To schedule a checkup or to ask about braces, visit our website or call (508) 832-6278.
Comments Off

on What It Means When Your Child's Braces Have Power Chains
No Comments
No comments yet.
RSS feed for comments on this post.
Sorry, the comment form is closed at this time.