October 19, 2019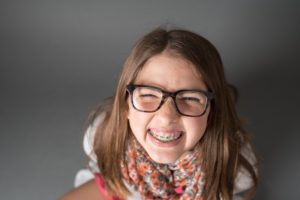 When your children gets braces to straighten their smile, you're committing them – and yourself – to a treatment that could last for months or even years. How long can you expect it to last? How many trips will you need to make to the orthodontist? And most importantly, how can you make sure the treatment time doesn't become longer than it needs to be? Here's what you need to consider when planning your orthodontic treatment.
How Long Does Orthodontic Treatment Usually Take?
On average, the total time for wearing braces is usually anywhere between 18 months and 2 full years (although many treatments can be longer or shorter). Of course, the exact length depends on various factors, including:
The Severity of the Problem: Naturally, more severe orthodontic issues will require a longer treatment time.
How Well the Body Responds: Even if two people have a similar orthodontic problem, such as an overbite, their treatment times may be different depending on how receptive their teeth and jaws are to the required changes.
The Type of Braces Used: Traditional braces, Invisalign, self-ligating braces and clear/ceramic braces all tend to have different treatment times.
Good Oral Habits: Your child will need to take good care of their braces as well as their teeth. If their appliance keeps breaking or if they need to be treated for dental issues such as cavities, the treatment could be delayed.
How Often Will You Need to Visit the Orthodontist?
Your child will need to see their orthodontist every so often for adjustments as well as to make sure that their treatment is going as planned. Typically, there will be an appointment every four to eight weeks; these visits may become more or less frequent depending on your child's progress.
How Can You Make Sure Treatment Time is as Short as Possible?
The main thing you can do to shorten treatment time is to make sure your child takes care of their braces and practices excellent oral hygiene while wearing them. Make sure that they:
Brush and floss regularly. It's very easy for food and plaque to become trapped between braces and teeth.
Cut harder foods like apples and carrots into braces. Biting on something hard could damage the braces.
Avoid sticky candy. Taffy and other sticky treats could potentially pull your child's brackets off their teeth.
Don't chew on fingernails and pen tips. Like with hard foods, biting on these objects runs the risk of breaking your braces.
Your orthodontist may have additional instructions during the treatment; make sure your child understands and follows them as closely as possible. If there's an issue, call your orthodontist right away so that it can be addressed as quickly as possible. Taking the right precautions will help ensure that your child's braces will come off sooner – and their new grin will make it all worth it!
About the Author
Dr. Reema Dhingra is the orthodontist at New England Kids Pediatric Dentistry and Orthodontics in Auburn, and she loves the opportunity to improve the confidence of her patients by enhancing their smiles. In addition to traditional braces, she also offers Invisalign, self-ligating braces and other orthodontic options. To schedule an appointment, visit her website or call (508) 832-6278.
Comments Off

on "How Long Will They Need Braces?" Planning Your Child's Orthodontic Treatment
No Comments
No comments yet.
RSS feed for comments on this post.
Sorry, the comment form is closed at this time.