September 10, 2019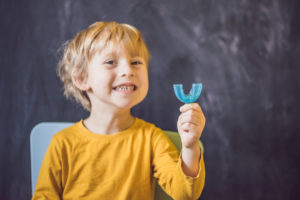 One of the many joys of being a parent is watching young children as all their baby teeth come in to eventually form a full, happy smile. At this stage, it may seem premature to consider whether your son or daughter would benefit from early orthodontic treatment. However, in reality, many children as young as 7 can benefit from orthodontics, and not just to achieve a straighter smile. In today's blog, we discuss functional orthodontics – what it is and how it could benefit your child.
Functional Orthodontics vs. Traditional Orthodontics
Traditional orthodontic treatment such as metal braces typically focuses on moving teeth into a straighter, more attractive position. For individuals with crowded teeth, this can sometimes require extracting several teeth to make room in the mouth. Traditional braces can also address bite alignment issues as well.
Function orthodontics is a more comprehensive approach that not only straightens teeth but also addresses various medical problems associated with the mouth, jaw and teeth. For example, functional orthodontic treatment can improve jaw alignment and reshape the facial skeletal structure to reduce the chances of TMJ disorder and prevent sinus issues. Functional orthodontics also makes space in a child's mouth for future teeth to come in without causing overcrowding.
How Does Functional Orthodontics Work?
Functional orthodontic treatment is typically completed in one to two phases:
Phase 1: A child wears a removable oral appliance that guides the development of the jaw and aligns the baby teeth. Full braces treatment may be recommended instead in some cases. Phase 1 treatment typically lasts from 9 to 12 months.
Phase 2: If additional treatment is needed, a pediatric orthodontist may recommend Invisalign or traditional braces to align a child's permanent teeth after they have erupted.
What are the Benefits of Functional Orthodontics?
Functional orthodontics offers a range of benefits, such as:
Tooth extraction is rarely required, as space in the mouth is created instead.
Non-extraction can contribute to a more balanced facial profile and a more broad and beautiful smile.
Improves the health of the TMJ (temporomandibular joint)
Improves the patient's airway and breathing
Improve one's physical appearance by readjusting the jaw to a more natural position
Is My Child a Good Candidate?
Even if your child does not have any visibly crowded or crooked teeth, they may benefit from functional orthodontic treatment. To find out for certain, schedule an orthodontic evaluation at a pediatric orthodontist near you. In fact, the American Association of Orthodontists (AAO) recommends that every child receive an orthodontic check-up no later than age 7. A simple checkup now can determine if your son or daughter would benefit from functional orthodontics and may end up preventing the need for more extensive treatment in the future.
Children grow up so fast! So don't wait. Set your son or daughter up to enjoy an attractive smile and excellent dental health by exploring functional orthodontic treatment today.
About the Practice
Parents in Auburn know who to trust with their children's oral care: the experienced and friendly team at New England Kids. With two pediatric dentists and a board-certified orthodontist on staff – all 3 of whom are proud moms as well! – the team at New England Kids can handle every aspect of pediatric oral care, from simple dental checkups to more complex orthodontic treatment. For more information on functional orthodontics, visit the New England Kids website or call 508-832-6278.
Comments Off

on Who Can Benefit from Functional Orthodontics? Find Out Here
No Comments
No comments yet.
RSS feed for comments on this post.
Sorry, the comment form is closed at this time.